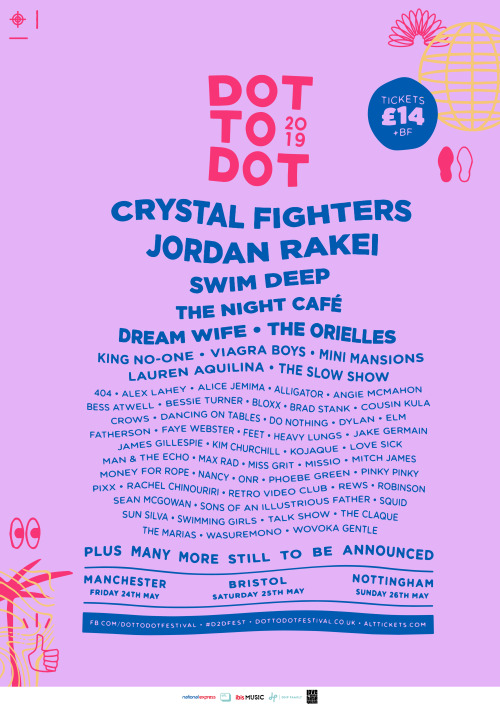 The second wave of acts have been unveiled for Dot To Dot Festival 2019. The award-winning day-long event will once again feature a line-up full of both established performers and the best emerging artists from the UK and around the world, over 20 artists have just been added to the bill, including the likes of KING NO ONE and THE SLOW SHOW. They will join the already announced list of acts that includes; CRYSTAL FIGHTERS, JORDAN RAKEI, SWIM DEEP, THE NIGHT CAFÉ, DREAM WIFE to play Manchester, Bristol and Nottingham on 24-26th May 2019 for Dot To Dot Festival's 15th year.
Having released their debut album 'OOMM' in March, KING NO-ONE's empowering brand of razor-sharp indie has earned them plaudits from across the music industry. The unsigned act has managed to clock up an impressive array of accolades, including achieving over eight million streams on Spotify, getting played on BBC Radio 1, BBC Radio 6 Music, Radio 2 and XFM, and all without the backing of a major label. King No-One are selling out Academy level venues nationwide, showcasing their pedigree as one of the most in-demand live acts around.
Fresh from the release of their latest single 'Hard to Hide', which is their second piece of new material since 2016's acclaimed album 'Dream Darling', THE SLOW SHOW are set to dazzle crowds with their deeply evocative and richly textured sound at Dot To Dot. Having graced stages across some of Europe's premier venues and festivals, the band's forthcoming D2D shows will include a must-see homecoming appearance at the Manchester leg of the festival.
Creating an intricate and far-reaching sound that is influenced by his global travels, KIM CHURCHILL will arrive at Dot To Dot fresh from conquering an extensive European tour. Kim recently released a spectacular new single titled 'After The Sun', which saw him teaming up with the fabled house and hip-hop producer Vincent Kottkamp. The new single marks the start of an exciting new chapter in the career of the Australian singer-songwriter, as he is due to release further new material later this year, taking inspiration from both people and environments in some of his favourite parts of the world.
Other additions include, Los Angeles group THE MARIAS, who's seductive fusion of r&b, indie and lo-fi funk has seen Noisey declaring that their sound has the ability to "…transport listeners across genres, decades, languages, cultures, and moods, often within one single track." Their back catalogue is already brimming with countless summer smashes, which includes the likes of their debut 2017 single 'I Don't Know You', a track that has alone earnt them nearly 17 million streams on Spotify.
2019 has been a huge year for Uxbridge four-piece BLOXX, who will arrive at Dot To Dot on a high having recently completed their biggest headline tour to date, and with their latest EP 'Headspace' earning rave reviews from the likes of Dork, who described the lead single 'Sea Blue' as "a shimmering groover of a track that effortlessly has our hands in the air like it's nobody's business." Also joining the line-up are 6 Music favourites SQUID, whose current supercharged single 'Houseplants' is a regular on the station after earning a place on its 'A list', and 4AD records signee PIXX, who is set to release her eagerly-awaited album 'Small Mercies' in June.
The full second wave announcement includes; ALICE JEMIMA, ALLIGATOR, BLOXX, BRAD STANK, COUSIN KULA, DO NOTHING, ELM, FEET, JAKE GERMAIN, KIM CHURCHILL, MAN & THE ECHO, MITCH JAMES, MONEY FOR ROPE, NANCY, PHOEBE GREEN, PINKY PINKY, PIXX, ROBINSON, RETRO  VIDEO CLUB, SEAN MCGOWAN, SQUID, TALK SHOW, THE CLAQUE, THE MARIAS, plus many more yet to be announced.
Also set to perform at the 2019 festival are; CRYSTAL FIGHTERS. The band have been an integral part of the alternative dance scene since the release of their debut album 'Star of Love' in 2010. Widely adored for their catchy songwriting and penchant for glitter, the English/Spanish trio built upon the momentum created by their debut with the release of 2013's 'Cave Rave' and 2016's 'Everything Is My Family'. The group's endless energy and arsenal of feel-good anthems have made them a magnificent live proposition, helping them to forge a reputation for creating a celebratory party atmosphere wherever they play, including their headline set at Dot To Dot.
JORDAN RAKEI will also be bringing his jazz and hip-hop driven sound to Dot To Dot 2019. The New Zealand born multi-instrumentalist moved halfway across the world to London to pursue a full-time career in music. He has since self-released his debut album, 'Cloak', in 2016 followed by critically acclaimed album 'Wallflower', released via Ninja Tune in 2017. Jordan has also collaborated with some notable tastemakers including Tom Misch, Disclosure, and more recently, merging the worlds of hip-hop and electronica with beautiful ease on 'Ottelenghi' with Loyle Carner.
After previously wowing audiences at Dot To Dot in 2015, SWIM DEEP are welcomed back to the line-up this year. An integral part of Birmingham's B-Town generation alongside Peace and Jaws, the band currently have two album releases to their name; 2013's 'Where the Heaven Are We' and 2015's 'Mothers'. With these albums, came a collection of inimitable singles such as 'Honey', 'King City' and 'One Great Song and I Could Change the World'. With a sound that encompasses elements of melodic indie, shoegaze and pop, Swim Deep are guaranteed to produce many singalong moments during their Dot To Dot performance.
Other previously announced artists include; THE NIGHT CAFÉ, DREAM WIFE, THE ORIELLES, 404, ALEX LAHEY, ANGIE MCMAHON, BESS ATWELL, BESSIE TURNER, CROWS, DANCING ON TABLES, DYLAN, FATHERSON, FAYE WEBSTER, HEAVY LUNGS, JAMES GILLESPIE, KOJAQUE, LOVE SICK, MAX RAD, MINI MANSIONS, MISS GRIT, MISSIO, ONR, RACHEL CHINOURIRI, REWS, SONS OF AN ILLUSTRIOUS FATHER, SUN SILVA, SWIMMING GIRLS, WASUREMONO, WOVOKA GENTLE.