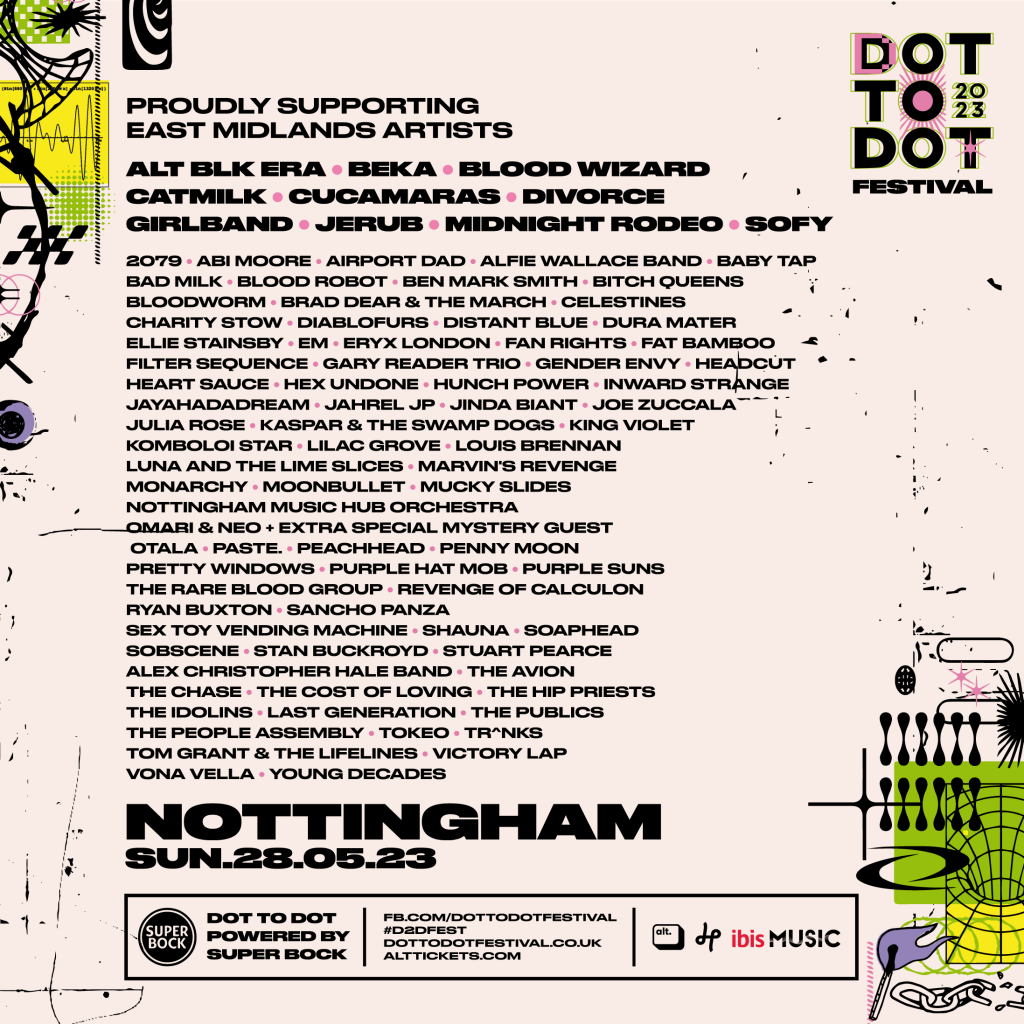 Just check out all this East Midlands talent 😍
We've added a ton of great artists to make that D2D schedule even more full! That's an incredible 160 artists all performing on one day and one wristband to give you access to all the sets!
Playing across on the whole weekend (in Bristol & Nottingham) are East Mids talents BEKA, Blood Wizard, Cucamaras, DIVORCE, Girlband, JERUB, Midnight Rodeo and SOFY.
For those of you in Nottingham, you'll have the opportunity to witness raw and unconventional sister duo ALT BLK ERA who recently sold out The Bodega, fever dream indie-folk four piece Catmilk, disco-driven rockers Sancho Panza, psych four-piece Fat Bamboo, Pete Doherty's Strap Originals signed Vona Vella and all the 80 artists added today!
Tickets are selling fast, buy yours here.
The following artists have been added to the lineup today:
Alt Blk Era, Catmilk, 2079, Abi Moore, Airport Dad, Alfie Wallace Band, Baby Tap, Bad Milk Blood Robot, Ben Mark Smith, Bitch Queens, Bloodworm, Brad Dear & The March, Celestines, Charity Stow, Diablofurs, Distant Blue, Dura Mater, Ellie Stainsby, EM, Eryx London, Fan Rights, Fat Bamboo, Filter Sequence, Gary Reader Trio, Gender Envy, Headcut, Heart Sauce, Hex Undone, Hunch Power, Inward Strange, Jayahadadream, Jahrel JP, Jinda Biant, Joe Zuccala, Julia Rose, Kaspar & The Swamp Dogs, King Violet, Komboloi Star, Lilac Grove, Louis Brennan, Luna & The Lime Slices, Marvin's Revenge, Monarchy, Moonbullet, Mucky Slides, Nottingham Music Hub Orchestra, Omari & Neo + extra special mystery guest, Otala, PASTE., Peachhead ,Penny Moon, Pretty Windows, Purple Hat Mob, Purple Suns, The Rare Blood Group, Revenge of Calculon, Ryan Buxton, Sancho Panza, Sex Toy Vending Machine, Shauna ,Soap head, Sobscene, Stan Buckroyd, Stuart Pearce, Alex and the Christopher Hale Band, The Avion, The Chase, The Cost Of Loving, The Hip Priests, The Idolins, Last Generation, The People Assembly, The Publics, Tokeo, Tom Grant & The Lifelines, TR^NKS, Victory Lap, Vona Vella, Young Decades