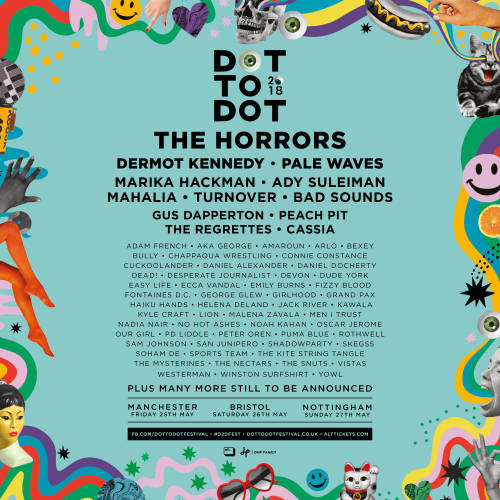 Dot To Dot Festival are delighted to announce 24 new artists to an already stellar line-up which includes the likes of The Horrors, Pale Waves, Dermot Kennedy, Marika Hackman, Mahalia, Turnover and Bad Sounds. Taking place in Manchester, Bristol & Nottingham on May bank holiday weekend (25 – 27 May) for its 13th year, the festival is renowned for uncovering the most exciting emerging artists from across the UK and around the world.
ADY SULEIMAN returns to Dot To Dot Festival in 2018, following his landmark show to a sell-out crowd at KOKO in London and the release of his critically acclaimed debut album 'Memories'. The record was described by The Independent as "a richly woven collection of R&B, jazz, neo-soul and funk, all tied together with his sweetly-husky vocals and matter-of-fact delivery". His sets in Manchester, Bristol and a hometown performance in Nottingham are highly anticipated this year.
After racking up millions of views on YouTube over the last year, the ever eccentric "chewed bubblegum pop" Canadian quartet PEACH PIT will also be joining the Dot To Dot party. Melding teen angst with bummer summer vibes, their energetic live show is bound to go down a treat.
The second wave announcement includes an extremely talented collective of artists set to perform across Manchester, Bristol and Nottingham's most formidable venues; AMAROUN, CHAPPAQUA WRESTLING, DEAD!, DESPERATE JOURNALIST, DUDE YORK, ECCA VANDAL, EMILY BURNS, FIZZY BLOOD, FONTAINES D.C., GIRLHOOD, JACK RIVER, NADIA NAIR, NO HOT ASHES, OSCAR JEROME, PD LIDDLE, ROTHWELL, SAM JOHNSON, SAN JUNIPERO, THE NECTARS, VISTAS, WESTERMAN and YOWL.
This year's Dot To Dot is shaping up to be the biggest and best in the festival's long and prestigious history. Tickets are priced from just £13 and available now through alt.tickets here.