We're excited to announce the first 35 artists to join the bill for our 2020 event, a 15 year milestone for our award-winning festival with a reputation for bringing the hottest new talent to stages in Manchester, Bristol and Nottingham over the late-May bank holiday weekend.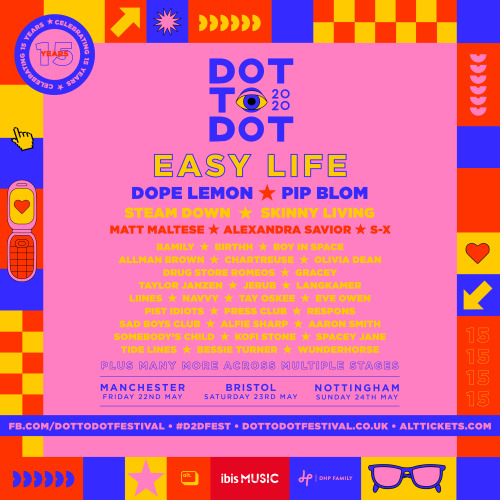 This year's event continues that tradition with the announcement of EASY LIFE as headliners following a breakout year for the band, which included a sold out UK tour, the release of their critically acclaimed mixtape, Spaceships, and a show confirmed at the prestigious Roundhouse in London as part of their forthcoming Junk Food tour. There is no doubt that 2019 was an unquestionable triumph for the Leicester five-piece, which they are certain to build upon over the next 12 months, having already been crowned Best New British Act at the 2020 NME Awards in February, and placing second in the BBC Sound Of Poll 2020 at the start of the year.
Also joining the bill is DOPE LEMON, the vibrant and experimental solo project of renowned Australian musician Angus Stone (one half of the folk-pop duo Angus and Julia Stone). Under the Dope Lemon moniker, Stone has explored new sonic grounds, culminating in the release of his second studio album Smooth Big Cat in September 2019, an album that built on from the success of his 2016 debut Honey Bones in swaggering style, with him ultimately hitting over 100 million streams with music that he describes as "songs for when the eve is about to turn into something special".
Having opened Glastonbury's prestigious John Peel stage in 2019, Heavenly Recordings-signed PIP BLOM, along with her namesake band, return to the UK festival circuit for D2D. Last year also saw the Amsterdam-based indie quartet release their debut album Boat, a critically acclaimed offering full of bright and infectious, grunge-infused melodies.
South-East London collective STEAM DOWN will also bring their energetic live show to Manchester, Bristol and Nottingham. Since forming back in 2007, Steam Down have received two Jazz FM awards, which include 'Live Experience of the Year Award' and 'The Innovation Award', an accolade which clearly emphasises the impact and importance they've had on the UK's flourishing jazz scene throughout the decade.
Wakefield four-piece SKINNY LIVING are set to enchant audiences with their captivating brand of glorious acoustic soul. Having already amassed an impressive back catalogue which includes their recent acclaimed 2019 EP release No Messiah, the band have forged a reputation for crafting songs that contain powerful and heartfelt lyrics which have resonated with audiences en masse.
Having previously stunned D2D audiences in 2017 with his crooning songs of love and loss, prolific South London songwriter, MATT MALTESE returns to the festival for 2020. His debut album, 2018's Bad Contestant, was a deeply charismatic release that was closely followed up by sophomore effort Krystal, released a mere 18 months later, both showcasing and capturing his writing talent.
With her 2017 debut album Belladonna of Sadness, Portland artist ALEXANDRA SAVIOR demonstrated her effortless ability to combine dreamy song writing, enchanting vocals and atmospheric arrangements, her eagerly awaited follow up, The Archer, dropped on January 10th, meaning that her appearance at Dot To Dot Festival will be one of the first chances to catch new material live on UK soil.
British R&B and trap artist S-X also joins the bill, having released an impressive three LPs since 2018. On top of that, the Wolverhampton born performer has worked as a record producer with numerous artists on other projects, including producing YouTube star KSI's hit collaboration with Rick Ross & Lil Baby, Down Like That, which has amassed over 38 million streams on Spotify. He was also Grammy nominated for his work on Childish Gambino's 2013 album, Because the Internet.
Each year we pride ourselves on seeking out the freshest emerging musical talent and our 15th edition, with the appointment of Easy Life as headliners, demonstrates this approach and ethos right through the core of the festival. Dot To Dot organiser and Director of Live at DHP Family, Dan Ealam, said: "We can't wait to celebrate the festival's 15th birthday with some of the most exciting acts from across the World. It's extra special having Easy Life along to headline after gracing some of the festival's smaller stages in recent years and we're excited to mix up the programming to keep the festival moving forward for another 15 years! There's plenty more acts to be announced as we build up to our birthday and some surprises too!"
Completing the bill so far, and filling some of those smaller stage slots that this year's headliners have graced in the past, are: BAMILY, whose D2D debut comes after months of vibrant live sets at unconventionally located secret gigs in London; BIRTHH, the creative "dark alter-ego" of Italian artist Alice Bisi; Swedish-born Robin Lundback, aka BOY IN SPACE, with his emotional musical landscapes; ALLMAN BROWN, who has been hailed amongst today's most compelling new singer-songwriters; CHARTREUSE, following a recent stint on tour with Bombay Bicycle Club; OLIVIA DEAN's undeniable voice and youthful "Friday-night-down-the-pub" storytelling; DRUG STORE ROMEOS, having just been named on the bill for Annie Mac's emerging artist series; GRACEY, who released her debut EP last year after writing hits for some of the industry's leading pop acts; TAYLOR JANZEN, fresh from gaining critical acclaim from the likes of NPR, New York Times and NYLON; Nottingham-based, JERUB, with his blend of genres and powerful vocals; Creators of good ol' fashioned guitar music, LANGKAMER; Manchester-based post-punk trio LIINES; Electro-pop New Zealander NAVVY; The heartfelt lyricism of TAY OSKEE, whose breezy rhythms are reminiscent of his Mission Beach hometown; EVE OWEN, after recently lending her warm and hopeful vocals to The National's song Where Is Her Head; PIST IDIOTS, who bring their notorious live show to the festival; PRESS CLUB, the Australian garage-punk outfit who released 2 LPs last year; Emerging artist RESPONS, with influences ranging from the sounds of Gospel to Hip-Hop; Crouch End quintet, SAD BOYS CLUB, with their emotive and ambitious indie-pop sound; Recent Island Records signee from Nottingham, ALFIE SHARP; AARON SMITH, the Scottish singer-songwriter with 8 million Spotify streams; East London-born / Birmingham-raised rapper KOFI STONE, whose 2019 debut album included features from Loyle Carner and Maverick Sabre; the honest songwriting and stadium-sized songs of SOMEBODY'S CHILD; SPACEY JANE with the breezy blend of garage pop & indie rock that earned them a nomination for 'Unearthed Artist of the Year' at the J Awards in their native Australia; TIDE LINES, whose songs are sung in English with a nod to their Scottish Gaelic heritage; Championed by BBC Introducing, BESSIE TURNER returns after a D2D performance in 2019; and Jacob Slater's WUNDERHORSE, joins the bill, fresh from touring with the likes of Dope Lemon and Willie J Healy. Plus many more still to be announced.
Tickets for Dot To Dot are priced from £15 and available now through alt.tickets: www.alttickets.com
Subscribe to Dot To Dot's social media pages on Facebook, Twitter and Instagram to stay up to date on the latest line up announcements and to keep yourself in the loop for all things Dot To Dot.