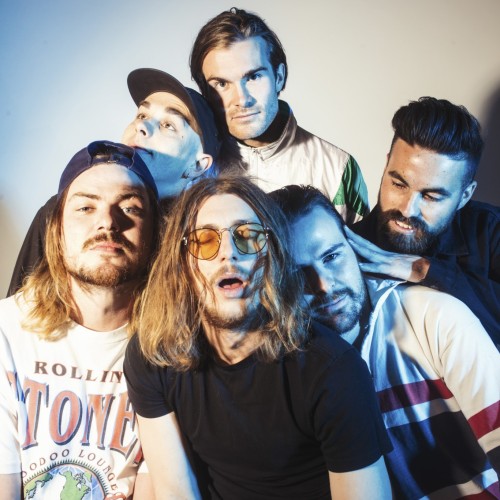 Join the dots between two other bands to sum up your sound.
Musically, The Beatles have been my most prevalent influence. I was instantly drawn to them as a kid, John in particular. The heart of their influence for me comes from their command of lyrics and melody. I've always been drawn to love songs and don't think anyone does them better than John. If you're writing about something it may as well be as important and human as love. In that I take more than just his lyrical command, but also how he was able to see love in everything. Outkast have also been a significant influence for us all. I wouldn't say we sound like them – as I don't think we do – but we do all appreciate how seamlessly they transition between rap, hip hop and a form of pop within that context. It's that mentality of continuously challenging oneself to produce something unique, and their example that it's more than doable, that draws us to them.

'Sponge Cake' came out last year, how was the process of getting the band to the point of its current collective status and putting that first album out there?
We came together really organically to be honest, it just happened. We were playing 3 hour live sets, comprised of covers and some originals, about 4 times a week in different formations. The album just happened too. I was always wanting to write a full length LP so I knew it was a project I'd finish, just didn't know to what extent people would hear it.
Recently you also unleashed a remix album in 'Sponge Cake: Rebaked', how does that remix process work and how does it feel to have an album out there that has been completely re-interpreted by other artists?
Was really fun to hear them come through. I didn't really know how many or what songs were being remixed or by who, so it was nice to get random emails come through with fully formed remixes of the songs. Love how it came out. Just a new way to hear the songs.

We've seen some footage from Splendour In The Grass and Fall Festival over in Australia and it's got us really excited about your sets for Dot To Dot! How did you find playing those huge stages for the first time?
It's been really good. Splendour was our first big festival, I was walking to backstage about 10 minutes before set time and there were about 7 people there, so I was panicking. Then we walked out 10 minutes later to about 8000 people. Panicked in a very different way.

Are there any other bands from the line-up who you are excited to check out at Dot to Dot?
Oh my god oh my god oh my gaaaahd!!! Sooooo excited to see Mahalia!!!!! Think we're going to be able to catch her set in Bristol. Just constant goosebumps listening to her sing. We're all genuinely obsessed. Really excited.

You recorded some of your album in London and have a sold out show there the week after Dot To Dot, have you toured in England outside of London? What are you looking forward to most in playing to crowds in Manchester, Bristol and Nottingham?

I used to come back every year for about 5 years and play little shows around London on my own but this is the first time with the boys so I'm really excited. I've only played London, Brighton & Portsmouth so far. Cannot wait for Dot to Dot!
Finally, hypothetically you're DJing the Dot To Dot after party, what's your final song of the night
Get Down Saturday Night – Oliver Cheatham…. Mic drop.