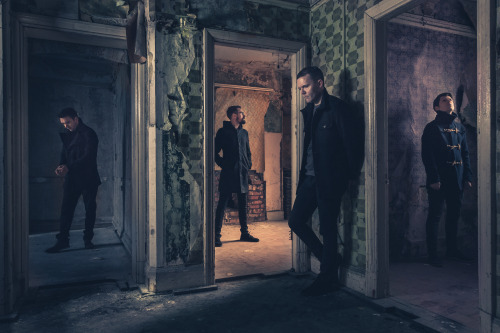 Join the dots between two other bands to sum up your sound.
We've been compared to Interpol and The Killers, not that we set out to sound like anyone particularly, its just what comes out. That's the kind of thing people can expect though, danceable uplifting guitar / electro. With decent lyrics and great melodies.
We are kicking off Dot To Dot in Manchester in 6 days! The last time you guys played a hometown show it was at a sold out O2 Ritz in November. It must be exciting to be back performing in the city?
Yeah we are really looking forward to it, we used to play Manchester every couple of months but now we intend to save it for big special shows. The Ritz was mental, it felt like a real celebration for us and our fans, it was amazing to see so many people bouncing and singing every word. Hoping for more of the same at Dot To Dot.
Manchester has a proud history of great musicians, who would you define as your hometown heroes?
The Smiths, The Roses, James, early Oasis, Elbow, Joy Division / New Order.
We've got a really eclectic mix of venues in all 3 cities at Dot To Dot, but where is the strangest place you've ever played a gig and how did it go?
We played in someones living room in Cholton for Sofarsounds. We played in the reading room in Manchester Central Library too – that was pretty mad as we just turned up unannounced and played – most people seemed to enjoy it, haha.
Are there any other bands from the line-up who you are excited to check out at Dot to Dot?
Heard good things about Honeyblood, looking forward to checking out PINS, Amber Run and Sundara Karma too. It's a really great lineup this year, we've seen people really buzzing about it online.
You've got an incredible fan base, not just in Manchester but all over the UK. In the last year you've supported the brilliant James in Bristol's Colston Hall and absolutely packed out The Bodega in Nottingham. Have you got a message for all the 'READERS' out there?
Massive thanks for all your support, as Jim said at the Ritz, we are DIY everything we make from selling tickets and selling vinyls and t-shirts goes back into the band. We got a lucky break with the James support – they genuinely championed us. But you fans do the same thing, when you share our vids online or tell your mates to check us out – that's how we are building and selling out bigger venues.
Finally, hypothetically you're DJing the Dot To Dot after party, what's your final song of the night?
Giorgio by Moroder – Daft Punk
Catch The Slow Readers Club at this year's Dot To Dot Festival, playing in Manchester (The Albert Hall, 7:15pm), Bristol (Bierkeller, 10pm) & Nottingham (Rescue Rooms 9:15pm).