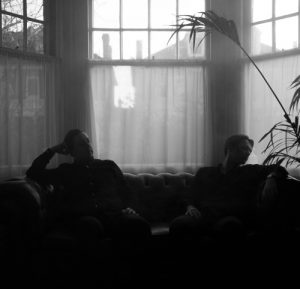 Join the dots between two other bands to sum up your sound. 
Air & Tame Impala
The live side to Tender is relatively new, with your debut show a sellout headline performance in London last November. How was the process of refining your songs to fit the live gig experience?
Is was all about delegating the parts so they would work in four strands of instrumentation for four of us playing live. All the keys and melodic parts come from us two, while the bass and percussion is naturally given to our bassist and drummer. For our melodic parts the toughest thing was just learning how to multitask on each song where we have a lot of different things going on with different sounds and patch changes from section to section. 
November also saw a UK and EU tour with the brilliant Cigarettes After Sex, including dates in Manchester, Bristol and Nottingham. How did you find the tour experience?
We had great fun on tour with those guys. We struggled to keep up with them drinking-wise though. It felt like we really got to know the songs well over the course of that tour playing them every night rather than a few times a week for rehearsals. Nothing can quite prepare you for a show. Although our sound is fairly different to Cigarettes After Sex, the vibe is definitely in the same ballpark and I think both bands try to evoke the same emotions, so it worked perfectly. 
On the subject of gigging, what is the first ever show you guys went to?
James' was Feeder at Southampton Guildhall in 2003 and Dan's was Limp Bizkit at Wembley Arena in 2001. Scenes.
Are there any other bands from the line-up who you are excited to check out at Dot to Dot?
We're both excited to see Parcels again. They're an outrageously good live band. We saw them at Moth Club a few weeks back and had such a great time.
Your recent release Erode is receiving lots of love from the music industry, including Radio 1's Phil Taggart. What more can we expect to hear from you in the near future?
We've got some more singles to be released and some videos ahead of our debut album which will be available sometime in the summer.
Finally, hypothetically you're DJing the Dot To Dot after party, what's your final song of the night?
John Farnham – You're The Voice

Catch Tender at this year's Dot To Dot Festival, playing in Manchester, Bristol & Nottingham.
www.fb.com/tenderofficialmusic