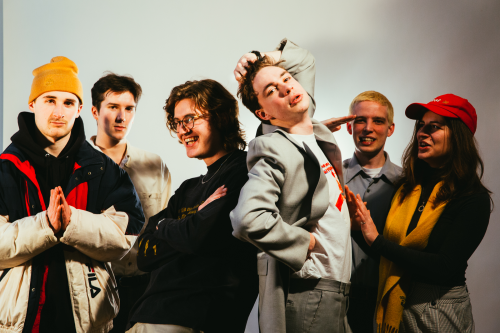 Join the dots between two other bands to sum up your sound.
Pavement and Pulp. We're trying to capture the energy of the American bands we love and couple it with English lyricism.
There has been a big buzz about the live show you put on, being referred to as 'an intoxicating live prospect' by DIY Mag, what is the key ingredient to your live performances?
I think the live stuff has always come quite naturally. We'd been putting on shows and playing at parties in Cambridge when we first formed – it never really occurred to us to try and record music until we got to London. It's great now people have got a chance to hear the tracks though, it a better show when people know the words.
You ended up with Dave McCracken (Ian Brown, Florence + The Machine) coming aboard in a producer role on the debut EP, how was he to work with and how did you find the whole recording process?
Dave's been great, we recorded that EP in about a week at his studio (the Timberyard) in Hammersmith.
You guys have amassed a big following in London packing out a load of shows over the last year, but you are currently on a spring tour playing all across the UK as well as 3 shows with us at D2D, how are you finding the touring experience so far, and what are you looking forward to most for all the shows coming up?
It's great, there's a nice juxtaposition between some idyllic French festivals and our commuter belt leg…we're currently on our way to The Half Moon in Bishop's Stortford.
Are there any other bands from the line-up who you are excited to check out at Dot To Dot?
Easy Life. YOWL. Our Girl. Bully.
We have a very eclectic group of venues used throughout Dot To Dot, what is the strangest venue that you've ever played?
We played (recently closed regional club) 'Bar Fusion' in Tunbridge Wells once. Mercifully no one came.
Finally, hypothetically you're DJing the Dot To Dot after party, what's the closer?
AC/DC High Voltage, from the album High Voltage.
Catch Sports Team at Dot To Dot Festival this year, playing in Manchester (Jimmy's, 22:30), Bristol (Rough Trade, 20:15) and Nottingham (17:45, Red Room).