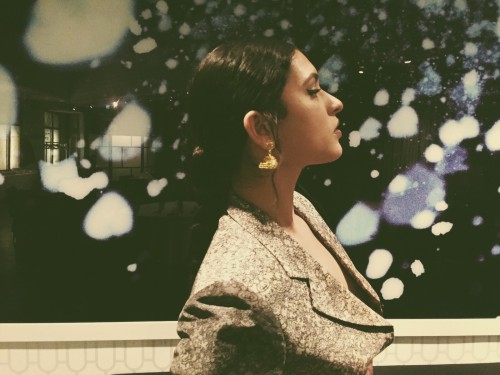 Join the dots between two other bands to sum up your sound.
It's hard finding people out there who sound like me. Not that I've looked around :P. I've managed to craft my work into something of my own because I like so many things and decided to blend it all into one giant thing of what I like instead of choosing one road… and I kind of searched for that freedom in everything I create. But of course I've had a couple of big influences in my life… there are a couple who opened up new eras in music for me and those really stood out for me. A lot of Greats I guess. Queen is a start. Hendrix. Erykah Badu. Skunk Anansie. Vivaldi. M.I.A. Sade. Lykke Li. Whitney Houston. Björk. Rihanna. Billie Holiday. I tend to be drawn to a lot of powerful women.
This is a really exciting time to be chatting to you, your new single 'K' has literally just dropped (check it out here), could you let us know a little more about the track and the story it tells?
I drew on influences from my background in violin playing. I used to play around with my violin a lot more. I was throwing a lot of old Indian tapes at my friend Elias and was looking for a certain sound from that in the violins. So we were nerding around with that for a while, to the point of exhaustion. But I'm pretty happy we kept going, and eventually things like the melody and lyrics just fell into place. They came from a very honest place. It wasn't the typical "I had just come out of a relationship kind of vibe" that influenced it. I mean I had, but there were other things – a lot of people I wanted to address and I wanted to make it relatable. It's that whole "the grass is greener on the other side" story that so many people suffer from, especially in this business which I've been in for a while but under the radar and doing my own thing independently. I've watched people get two-faced, make sacrifices without thinking and hurting people for short-term kicks. I guess that's kind of what I'm touching on. Both gentle and rough like tough love. 
With 'K' now out, joining 'Pull Your Fingers Through My Hair' and 'Forever' as singles in the last year, can we expect a new album soon?
Definitely expect an album. But I can't tell you when
Are there any other bands from the line-up who you are excited to check out at Dot to Dot
Mahalia seems interesting…plus Nadine Khouri!
You grew up in Sweden, born in Gothenburg and then moved on to Stockholm. Do you believe that your upbringing has had a strong impact on the music you write?
Absolutely. My music started with Gothenburg and took a lot of wrong turns in Stockholm and then I moved back to Gothenburg again. I was a total band chick jumping around in different bands as a teen in Gothenburg, ditching violin practice for that (not that I'm proud of that!). It was my dream as a kid to front in a rock band and I think a lot of people sensed that energy from me. That's why I got a lot of opportunities to do that and I'm thankful I got the chance to experiment and be expressive with it for a while, and my parents were so supportive. Mum herself was in the arts, we couldn't afford to buy art in our house so she painted all our art and she used to be a dancer, and would write and perform as an actor on stage back in the day. It inspired me to follow an artistic road. Along with dad who played the best rock music to me and who I still think to this day has a lovely voice even though he won't admit it. It was a naive and innocent time where I was my most thoughtless and creative self, growing up on the west coast. Then I moved to the big city for bigger opportunities because I needed to choose what to do with my life and the people around me said take music seriously. So I did, I gave it my all and then a little too much, as one door opened after another. So I had to take a step back to find joy in it again. 
We've got a really eclectic mix of venues at Dot To Dot, but where is the strangest place you've ever played a gig and how did it go?
That's super nice. I think probably at a museum, as part of an exhibition. Not that it should be weird but it was very quiet. That was totally new for me. It's already hard enough figuring out your audience at a normal gig. In a museum, you've got to do it when they're several metres away sitting down in chairs observing you and being quiet. Haha
Finally, hypothetically you're DJing the Dot To Dot after party, what's your final song of the night?
Final Song! Oh depends on my mood…but probably purple rain by Prince. That fits any mood actually.