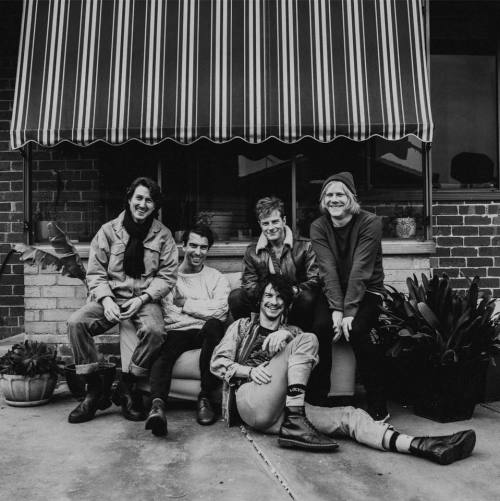 Join the dots between two other bands to sum up your sound.
Radio Birdman to Stinky Picnic
You released your second studio album 'Picture Us' in March, can you tell us some more info about the album, such as the inspiration behind it and whether you've done anything differently for this new release?  
This album was a long time coming, and a long time cooking and a long time fishing. We had just finished a European tour and had had some members move on. So we were just three boys living off benefits and recording music on the coast.  We'd fish through the morning to catch our meals and record through the afternoon. I think the tides influenced the record, as well as the amount of free time we had to play with sounds.
You've spent a great deal of time touring around the world over the past few years, so we're guessing that you've played some weird and wonderful venues, what is the strangest or most memorable venue that you've played at?
We played on a floating stage on a river at a German hard rock festival. We didn't really fit in with the other bands, Limp Bizkit were playing…We got an invitation from the promoter to attend Wes Borlands birthday party that night. It was a weird experience.
In the past few years, you've played at Glastonbury, SXSW as well as playing headline shows across the globe, what's next for the band and is there anything you haven't ticked off the bucket list yet?
I'd love to tour the Asian continent. We did a tour of India which was wild. It's always been a dream to play in Japan. Anywhere that has good soups, Vietnam, Korea, we'd love to tour there.
We noticed that your last two music videos for 'Actually' and 'Earl Grey' were made by one of your two drummers Erik Scerba, with the former documenting one of your practise sessions. Has Eric got any big plans for future videos? And is your rehearsal room always that messy!?
Eric is a jack-of-all trades. He's also produced some amazing vids for his other band Hobsons Bay Coast Guard, check em' out. Apart from that he's a great music producer  and goulash cook. The rehearsal room is usually spotless. We had to put a lot of time into messing it up like that.
Money For Rope are originally from Melbourne, which is a city that has given us Julia Jacklin, King Gizzard & The Lizard Wizard & Courtney Barnett plus loads more, why do you think that the music scene is so fertile in your home city? And who should we be looking out for next?
I think the sheer number of bands in the city produces a sense of friendly competition. There's also loads of excellent and supportive venues that put on gigs every night of the week. The previously mentioned Hobsons Bay Coast Guard are one to look out for, as well as Thando
Finally, hypothetically you're DJing the Dot To Dot after party, what's your final song of the night?
Power of Love into Ghostbusters into Grease.