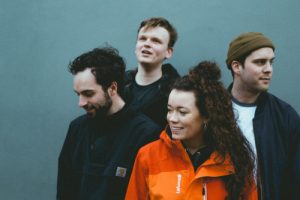 Join the dots between two other bands to sum up your sound. 
Probably Massive Attack and Spice Girls.

'Drink Alone' has just been dropped, it's a song that has been over 2 years in the making, how does it feel to finally get it out there?

It feels good. When you produce your tracks yourself, you give yourselves lots of time to try out different iterations of the same song. So Drink Alone has been through a lot of a change in the production but what we actually settled on was something quite close to the original version of the song. It always gets the crowd going, and people generally come up to us saying that that's the one that sticks in their head. 
Give 'Drink Alone' a listen here.
We know that you don't like drinking alone, so if you could have a few pints with absolutely anybody in the world who would it be with and why?
Hmm it's tricky! In terms of living people there are a load of them and they would vary from member to member. Owen's pick is Thom Yorke, Clem's Nicolas Jaar. Tom loves Gordon Ramsey and could definitely teach him a thing or two over a pint. Creeda's would be Lloyd Grossman, 100%.

We've got a really eclectic mix of venues at Dot To Dot, but where is the strangest place you've ever played a gig and how did it go?
We once played a gig out on the streets of central Manchester in the middle of the day outside a burger shop, with a full PA and electronic setup. It was a load of fun. We were quite loud, but luckily didn't get asked to move on by anyone and managed to play our set a couple of times. The response was really good!

Are there any other bands from the line-up who you are excited to check out at Dot to Dot?
For sure! We played a gig with Yonaka in the early days so will be good to catch them again also our homeboys CROOX are bangin' live. Really looking forward to catching Cosmo Pyke and Nilüfer Yanya as well.

We've heard how you guys write, produce, and mix everything out of your own bedroom set up, how does this DIY approach work for you?
It's just kinda what came naturally to us. The production is very much part of the creative process, and we learn something from each track we produce. It can get hard sometimes of course, one part of your mind is always thinking about a track, and sometimes you have to approach a track in a different way to get your ideas flowing. We would love one day to get our own studio, but we're pretty happy working the way we do now!

Finally, hypothetically you're DJing the Dot To Dot after party, what's your final song of the night?
Michael Jackson- Don't Stop till you get Enough. Can't beat a bit of MJ to go out with a bang.
Catch Kudu Blue at this year's Dot To Dot Festival, playing in Manchester, Bristol & Nottingham.