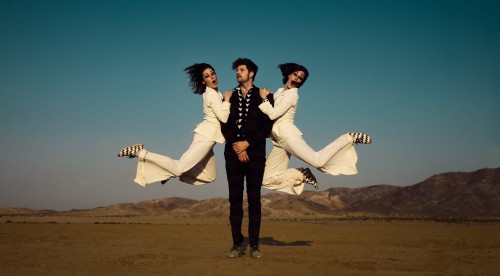 Join the dots between two other bands to sum up your sound.
Tough one. We call our genre things like space blues, glamabilly, desert disco etc.
Here's a few hybrids that might work depending on your music tastes: Jon Spencer Blues Explosion meets T Rex. Beck meets The Velvet Underground. Elvis meets The Cars. Spoon meets INXS. David Bowie meets Bruce Springsteen. The White Stripes meets The Stranglers. The Cure meets Elvis Costello.
You guys are not just a musical duo, but also husband and wife! What's it like working together in a relationship, and how do you find touring?
Rob: Sometimes we want to kill each other. Sometimes we want to get it on.
You have both been active in the music industry for some years, both playing in He's My Brother She's My Sister before KOLARS, have you played many shows in the UK before, and if so how have you found the experience?
Rob: We love the UK, my mom/mum is from here and we have lots of family all over. Always end up extending the trip to visit everyone and see all the new kids that pop up. Also people are way more polite. And generally have better taste in music.  
On the subject of gigging, what is the first ever show you guys went to together?
Rob: I have no idea. But we did get engaged at a show in England.  At Secret Garden Party a few years back. That was wild. I did it on stage in the middle of a song and dropped the ring in front of a thousand people. It bounced around on this rickety wooden stage and almost fell between the cracks. The audience was wondering what I was doing crawling around. Luckily I found it. And luckily she also said yes.  
Are there any other bands from the line-up who you are excited to check out at Dot to Dot?
Rob: Yes. Been a while since we saw Matt & Brooks (The Growlers). We've done several shows with them back in the day. Interested in seeing the evolution as it's been a long time since we've seen them live. Hoping to stumble across some other cool bands. Interested in any recommendations you might have.
Lauren: Our pals Mystic Braves are playing as well! And Ive wanted to see Cherry Glazerr for a long time, I keep missing them every time they play LA.
We've never seen a drumming style the same as Lauren's before, bass drum tap dancing, it's great! How did this come about? Is the drum kit tailor-made for this purpose?
Lauren: Haha yes! It's kind of weird….was invented by me only because it was the only way I know how to play the drums! We were in another band a few years ago, called He's My Brother She's My Sister, and in the early years of that project we had a drummer and I would just stand beside him and tap dance out additional rhythms to enhance the percussion. Then he decided to quit…and instead of getting a new drummer the band decided I should just do both (tap & drum), haha! So I locked myself away in a rehearsal room for a few months and tried to figure it all out. I designed my special drum kit with my friend, Nick Nakahara and with Rob-and now 6 years later here I am!
Finally, hypothetically you're DJing the Dot To Dot after party, what's your final song of the night?
Rob: Elton John & John Lennon "Whatever Gets You Through The Night"
Catch KOLARS at this year's Dot To Dot Festival, playing in Manchester, Bristol & Nottingham.
www.facebook.com/kolarstheband