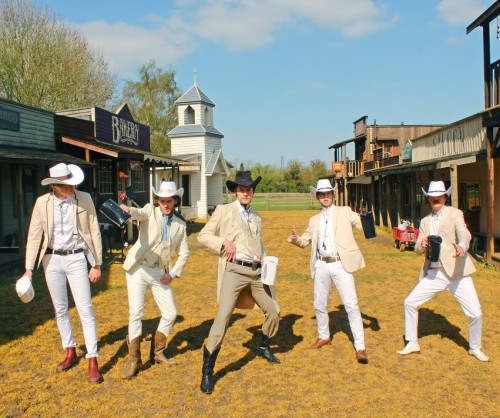 Answers from FEET's bassist Oli.
Join the dots between two other bands to sum up your sound.
The guys are gonna disagree with whatever i put, let's think realisticaly… The outlandishness of Frank Zappa twinned with the pop(ish) sensibilities of Blur. King Zap influenced us a fair bit during the album writing days, whereas Blur are more our 'go-to' comparison for the critics whom are still reminiscent about the ecstasy prices of 1994. Fairs.
The band's debut album 'What's Inside Is More Than Just Ham' is out this summer, what can we expect from the release?
10 songs that hopefully tell you a little more about us than the convoluted nature of our twitter page. It has influences so broad that we've often wondered if the album is in fact a confused mess. Fortunately though we had the foresight to, lets say, "modify" the blood-alcohol level of our guy tasked with writing the album press release, even Andrew Marr was their, dissecting the album's supposed political message (he actually was).
You recorded the album with producer Cam Blackwood who's worked with a hugely impressive list of names like George Ezra, Rat Boy and Jamie T, did you enjoy working with him and picking his vastly experienced brain?
Working with Cam was a truly enlightening experience, he looks at songwriting through a completely different lens to us. He's definitely the first producer that we really seemed to bond with. I'm not saying that you can purchase our devout respect with mere pints and an impromptu trip to Nando's, but something with bottomless Sprite and side servings of halloumi is a great start (ya'll should be writing this down). Ly Cam x
Feet originally formed at whilst studying at Coventry University which likely means you've played a fair share of riotous house parties, what's been the most weird and wonderful gig you've played to date?
During our time at the uni we probably did 20-30 shows in and around Coventry, loosing three Battle of the Band comps in the process (Kim is still salty bout these, official re- count yet to take place). The best of these shows were undoubtedly at an old (now closed) bar named The Quadrant Club, located just outside the city centre. Paula would let us have the front side of her pub to arrange music nights, and she remains a bastion of the early days of the band. The final hurrah occurred just before the place was shut down, the show was for a couple of years the best and busiest show we'd played. A serious coming of age moment, the gig plays back in my memory with a rich sepia tone, and a Netlix watermark bottom left. We also once played a festival in Luxembourg and Harry was bitten by a dog.
We've been really enjoying watching your YouTube channel, 'Feet TV', which includes tour diaries, guitar tutorials as well as your brilliant music videos, and is a channel we'd definitely recommend checking out. What's been your favourite video to record and will there be a special Dot To Dot instalment?
Even though it's faced some serious financial cutbacks post Brexit, we plan on getting it right back to where it once was (The Glory Days of 17/18). The episode entitled the OGC clan is a personal favourite of mine, spent a solid 10 or so hours editing the bastard, the two dislikes are almost certainly from our Cov landlords. If we do a festivals ep (which i'm expecting we will), i don't see why D2D wouldn't be included. Cards are on the table.
Since the release of your debut single 'Petty Thieving' in 2017 on 'Yala Records!', the band have experienced some brilliant milestones such as playing festivals across Europe and supporting bands like Honeyblood and Declan McKenna on tour, what's been your favourite moment so far and are there any personal goals you've not yet achieved?
Koko with dec was pretty special, a personal highlight for me, jeep and rains, having seen some of our idols take to that stage, but if u talking favourite moment, you're probably talking about our short stay in Moscow last summer. I mean when do ever really get that opportunity? Great Escape 19' is an admirable third, but consider that Brighton is to us only £35 away on the train (£43 for Harry since he is reluctant to purchase a 16-25 railcard because that apparently means "they've got him", Brummies eyyy), whereas to get to Russia you've got to cross the border, invest in a McDonalds vanilla shake to wash Farage and his friends off with as you pass, once you're in Putin's land you all of a sudden realise that you've left the most important thing at home, Neil Ward*.
*Neil Ward is our Tour Manager, good pal and owner of the quickest wit in the west.
Oh and our personal goal is to convince Elon Musk to invest heavily into making a singular clone of Neil Ward, for then we can have a day Neil and a night Neil, Neil round the clock. Neil squared.
Finally, hypothetically you're DJing the Dot To Dot after party, what's your final song of the night?
The Crazy World of Arthur Brown – Fire
Catch FEET live at this weekend's Dot To Dot Festival, set times below.
Manchester – Night & Day Cafe at 10:45pm
Bristol – HY-Brasil Music Club at 11:45pm
Nottingham – Resuce Rooms at 5:15pm