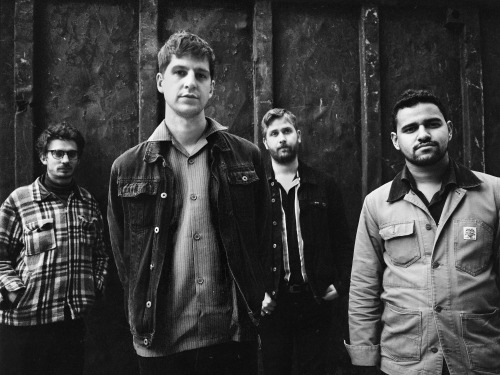 Join the dots between two other bands to sum up your sound.
As a band we've never really consciously made a decision to be influenced by anyone, there's bands we all listen to and are inspired by for sure, but never as a conscious decision. Coming from my own stance in guitar world I can pick out influences though, Black Rebel Motorcycle Club and their first album in particular are why I started playing the guitar and I've always played along to their albums and picked up the odd influence here and there that way. Similar story with The Stooges, I loved punk bands growing up as a teenager, but the way Ron Asheton played just seemed so cool to me above any other punk guitarist, really strong rhythmically and understated lead work that wasn't ego inflating, I'd like to think that's how my own playing comes across.
It's been a brilliant year for the band, as you signed to Balley Records (Joe Talbot from Idles' label) in January and released your debut album 'Silver Tongues' in March! How are you feeling right now, and could you tell us more about the album?
We're just really pleased the album is out and that it has been well received for the most part! It was a long slog for us getting the album out, we sat on it for over a year whilst various labels fed us a variety of bullshit. So when Joe and Mark (Bent, Idles manager) at Balley came along we were over the moon. Running a label whilst coming from an artist's perspective has just been so easy, they understand how hard it can be and they're an absolute joy to work with. The recording process was really fun, we have a good laugh when we're together even though that probably doesn't come across in our music. 
You've previously supported an impressive array of band's including; Wolf Alice, Slaves, METZ & Idles, who's been the most fun to tour and play shows with? 
All of those bands you have mentioned are all absolute sweethearts and some of our dearest friends and we have a lot of respect for all of them as artists and bands. Wolf Alice and Slaves we've known for a long time and we had a lot of fun hanging out on those tours and playing bigger stages for the first time. Metz are a band we've respected for such a long time and knowing what total legends they are from doing that tour only increased that respect. And Idles are my favourite band at this moment in time, they absolutely kill it every single night live and made me feel so tired just watching them play, they've got bags of energy, and the 5 of them individually are some of the best people we've ever had the pleasure of meeting.
We're huge fans of your album artwork, who is responsible for producing it? And was it a conscious decision to stick to a particular artwork style throughout every release? 
That would be our boy Elliott Lane. Elliott is an incredible artist and tattooist, he's our best friend and we love him to bits, he comes along on tour with us whenever he can and helps us out on merch etc. Again, one of the nicest people you could ever meet! It's always been a plan to maintain a strong identity across all the artwork that we put out and Elliott's work is always totally on point for us.
You previously said in an interview with NME that "the live show has always been our number one priority", what can people expect when they see Crows at Dot To Dot? 
I think people can expect to see a lot of energy from us and people can expect to hear a lot of volume. We know our kind of music has the best effect when it's super loud and people get moving around in the crowd and we feedback off that and it just makes for a real fun time.
We have a very eclectic group of venues used throughout Dot To Dot, what is the strangest venue that you've ever played?
Strangest venue we've ever played, I can think of 2 for different reasons. We played a festival in Switzerland a few years back and it was in a castle, the catering was served out of a cauldron over an open fire, a friend of ours asked if we were "touring the past" when one of us sent a photo to him. The other would be a show we did in a small venue in Mons, Belgium, it was a tiny little place that looked like someone's front room had been converted into a bar/venue. It was a good show though.
Finally, hypothetically you're DJing the Dot To Dot after party, what's your final song of the night?
I'd play Silver Machine by Hawkwind. My best friend's dad ran a venue back in our home town and they used to finish every night with Silver Machine, purely because every single person used to leave before it ended. Time to go home ladies and gents.