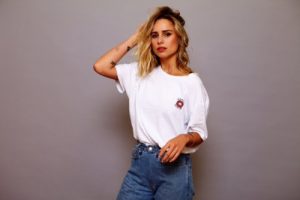 Join the dots between two other bands to sum up your sound.
The Strokes has always been a main inspiration, especially lyric wise. When working on electronic sounds I listened lot to Jagwar Ma. The first time I heard 'Howlin' I was forever baptised to their sound. I went on about them so much my friend got me the album on vinyl to shut me up​
Today marks the release of new single, 'Make A Mess', a song about an unfix-able relationship. The track is much more euphoric than a traditional breakup song, what can you tell us about the subject matter and why did you tackle it in this way?
Breaking up is never easy and sometimes the way to handle it is brutal but it's the only fair way. Being to nice would give away false hope which is more cruel than being blunt and straigh​tforward. It marked the end of an era and I was excited to see what was gonna happen next in life. I was ready to be a bit selfish, you can only carry a person for some time till your knees give up.
Check out 'Make A Mess' here. 
You and fellow band-member Emil are from Sweden, bassist Gabs is from Italy and your drummer Dean is British. How did this all come together?
Me and Dean met in a tour-van when he played drums in Various Cruelties we bonded over Captain Beefhart and have been in contact since. As soon as I got some songs recorded I asked if he would be interested to play with me. I found Emil through Swedish friends and after a few months of just drums, guitar and vocals we finally found G​abs. 
This will be your Dot To Dot Festival debut, what are you most excited about for playing these 3 new cities?
The change from the London scene! It's so exciting coming somewhere new, also a bit scary. We played Live at Leeds last year and had THE best time! Also very excited about the beer and uber prices!
We've got a really eclectic mix of venues at Dot To Dot, but where is the strangest place you've ever played a gig and how did it go?
I can't think of a really strange place, however when we played The Finsbury for the first time, w​e walked on stage ready to play and found out the sound engineer had gone for pizza. We then ​entered the stage 15 minutes later and found out he'd gone to buy cigarettes. After this time we basically just sat on stage​ until he came back. We felt like two big entrances was enough, haha.​
Are there any other bands from the line-up who you are excited to check out at Dot to Dot?
The Growlers are one of my absolute favourite bands, I was obsessed with them a few years back. They used to play small venues back then and always ended up at The Alibi in Dalston. It was great times. Also The Big Moon, they're incredible. 
With 3 songs now released, are there any exciting debut album plans that you can tell us about?
I've been really busy writing and got an entire novel of songs at this point to release early next year​. I'm working on piecing them together to get the right balance of electronics​ and shoegaze pop​ in the sound.
Finally, hypothetically you're DJing the Dot To Dot after party, what's your final song of the night?
That's a really difficult question buuuuuut I think it be "So good at being in trouble" by Unknown Mortal Orchestra. It's such a beauty of a song. The bassline is to die for.

Catch Avante Black at this year's Dot To Dot Festival, playing in Manchester, Bristol & Nottingham.