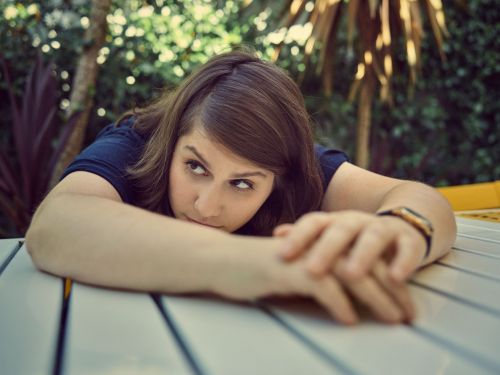 Join the dots between two other bands to sum up your sound.
Yeah Yeah Yeahs are a cornerstone of what it means to be a band with a legacy and have influenced me through all of their records. Paramore would have to fit into the same category too
You're releasing a new album called 'The Best Of Luck Club' which will be out a week before Dot To Dot which is extremely exciting! What can we expect from the new album?  
I like to think that the record takes a lot of unexpected twists and turns. It definitely explores some new sonics and pathways in relation to the songs themselves. More than anything, I think it's a super fun record and I'm pumped to play it live for the first time on this tour
We're massive fans of your latest single 'Don't Be so Hard on Yourself' (especially the brilliant saxophone solo!) and also of the music video, which sees you playing cricked against some safety inspectors. Could you tell us the inspiration behind the song + video?
Thank you! The song is about my partner who has this wonderful quality of taking everything that life throws at her by the horns. The video is a cooked little number that has a soft Black Mirror vibe to it where we have reappropriated The Best Of Luck Club to be some sort of medical research facility that ends in me playing a saxophone solo into the setting sun *insert shrug emoji here*
You've recently announced a huge world tour starting in May, which means you'll be out on the road for a few months, what is your favourite and least favourite things about touring life?
My favourite thing is meeting so many new people and having ridiculous experiences that would never happen in any other context eg being verbally abused by a Scottish groundskeeper named Willy outside of a hotel (the real Groundskeeper Willy). My least favourite thing is not being able to eat what you feel like at any given time and missing people and cats back home
What other artists on the line-up who you are excited to check out at Dot To Dot?
I'm excited to hang out with my fellow Melburnian Angie McMahon and her crew! Also super pumped to see Faye Webster do her thing, party on to Dream Wife and Mini Mansions
What is your favourite song (either yours or someone else's) to play live and why?
Playing 'I Haven't Been Taking Care Of Myself' has always been a highlight for me. There are so many singalong parts in that song that we get to share with the crowd, which means that it never sounds the same twice
We've been really enjoying listening to your Triple J residency recently, what's it been like being a radio DJ, and would it be something that you'd be keen to carry on with in the future?
Thanks! I had an awesome time and lots of fun filling in on Triple J the past few days, but I don't think it has planted some sort of surprising career change for me. That said, I'm always up for a rockstar shift on the airwaves if anyone's looking for a presenter with a dry sense of humour and a face for radio
Finally staying on the DJing theme, you're in charge of the decks at the Dot To Dot after party, what's your final song of the night?
Conga by Gloria Estefan and then we all convoy to the afterparty's afterparty!