Following another successful year for the festival back in 2006, it seemed like a natural step forward to expand into another city for the third instalment of #D2Dfest. Thekla, Louisiana and Fiddler's would play host to over 30 bands at the Bristol leg of the newly expanded festival. It was more of an intimate affair compared to its Nottingham namesake, but its unprecedented success ensured that it was another landmark year for Dot To Dot.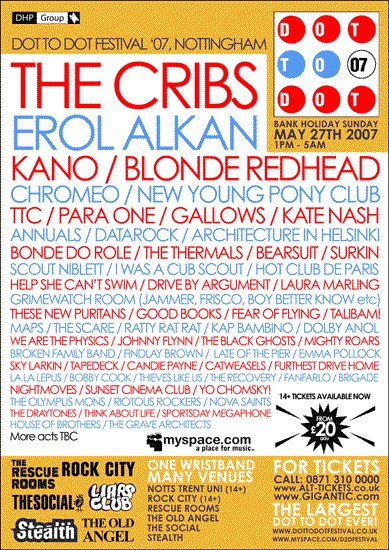 There was also more of an expansive range of musical genres on offer in 2007, but we were careful to maintain our original cutting-edge music policy, as we welcomed headliners The Cribs to the Nottingham leg, and New Young Pony Club and Kate Nash to headline the inaugural Bristol event. Alongside these heavy-hitters we put together a bill that featured the likes of folk singer-songwriter Laura Marling, purveyors of prime electronic wizardry Late of the Pier, king of grime Kano and heavy-metal heroes Gallows, ensuring that everybody's musical tastes were catered for.
It was another bumper year for the festival in terms of number of acts, range of venues, expansion into a new city and extended curfew's, which all helped to ensure that the new look #d2dfest was an unquestionable success.
Plus, there aren't may festivals where Lethal Bizzle stage invades Gallows, only for both of the artists to launch into a thunderous collaboration of The Ruts' 'Staring At The Rudeboys'.
Two that made it big from the line up…
FOALS
Playing a late afternoon set at Rock City, sandwiched between Pull Tiger Tail and Kate Nash, were Foals. Despite the fact the band had released just two singles (although one of these was the supercharged 'Hummer') it was clear from the start that they were masters of math-rock infused greatness and that huge things were in store for the Oxford five-piece. The band's energetic set at Dot To Dot saw Dazed and Confused magazine commenting in a review, "Chaos ensues both on-stage and off… their electro filled funk-punk is bristling with energy and adrenaline."
Yannis and co. would go on to release their highly acclaimed debut album 'Antidotes' just a year later on Transgressive Records. The album laid the foundations for the band to grow their trademark all-empowering sound, and the release also helped them to cement a dedicated following of fans who have grown up with the band throughout their subsequent four albums.
What are they up to now?
2019 is set to be a huge year for Foals, as the band will release not one, but two albums! The first of these releases, 'Part 1 Everything Not Saved Will Be Lost', has just been unleashed and charted at an impressive number 2 in its release week, and it features some brilliant new punk-funk infused singles in the form of 'On The Luna', 'Sunday' and 'Exits'.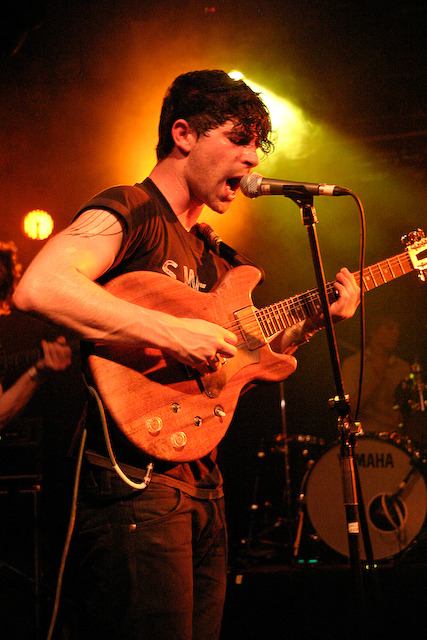 Photo by Dom Henry for LeftLion
CHROMEO
Is there a better way to sign off a festival than an hour-long set full of joyous electronic, pop-infused tunes courtesy of Canada's funkiest duo, Dave 1 and P-Thugg a.k.a. Chromeo? The band's sure-fire dancefloor fillers made sure that the #d2dfest party continued long into the night.
They'd just released an album a couple of weeks prior to their #d2dfest set, and 'Fancy Footwork' was hailed by Pitchfork for it's clever incorporation of "…talk boxes, 808s, canned percussion, and Prince-style atmospherics," which helped to beef up their already considerable back catalogue, which up until that point included their riotous 2004 release 'She's In Control'.
Chromeo have subsequently gone on to release a further three albums, picking up numerous awards and accolades along the way such as being nominated for a Grammy Award for their latest effort 'Head Over Heels' in the 'Best Engineered Non-Classical Album' category, helping to cement their place as pioneers of the electro-funk synth-fuelled sound.
What are they up to now?
The group have been extremely busy of late, as they've been in rehearsals for their full live band shows, which are happening across America and Canada in May. Dave P has even been trying his hand at stand-up comedy, which you can watch over on a certain comedy channel right now!
Grab yourself some tickets for this years festival for just £14 here.
Keep your eye out for more from 15 Years Of D2D in the next few weeks.