After starting out in 2005, we pulled out every stop to make sure that our next Dot To Dot Festival was a special one. Simian Mobile Disco, Klaxons, Hot Club De Paris, Metronomy, British Sea Power and The Horrors (who came back to headline a few years later…) all played at the 2006 edition. We stayed true to our original ethos of keeping things alternative and also giving new artists a platform to shine by hosting the likes of mind-bending math-rockers That Fucking Tank, lo-fi indie-pop artist Casiotone For The Painfully Alone and undoubted underground indie favourites Good Shoes.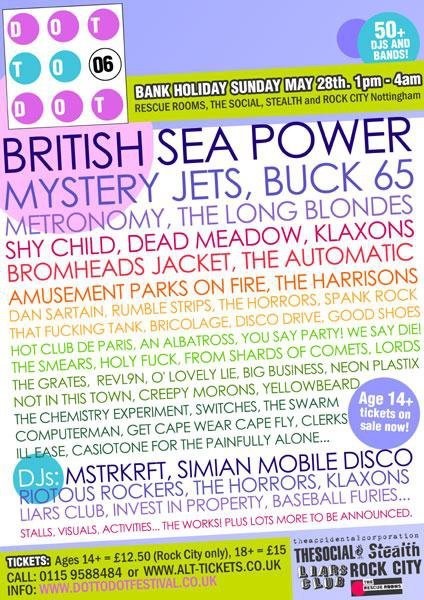 With some seriously heavyweight artists on the bill, we added Rock City as one of our venues. The venue is now synonymous with the Nottingham leg of #d2dfest and has played host to countless mainstage and headline performances.
Featuring more bands and an extended curfew (due to the amount of brilliant DJ sets we had, which included MSTRKRFT & Klaxons), it was a huge year for Dot To Dot, as we took a significant step forward toward establishing ourselves in the mould of the event we know and love today.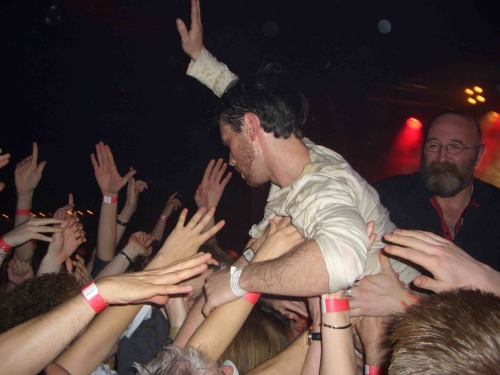 Two that made it big from the line up…
METRONOMY
After releasing their debut album 'Pip Paine (Pay The £5000 You Owe)' in 2006, the band were just starting their journey towards becoming one of the most treasured British electronic bands around. Their debut record manages to keeps you on your toes by throwing up a variety of surprises, ranging from the menacing, driven guitars of the now set staple 'You Could Easily Have Me', to the 8-bit Super Mario-esque synth dominated 'Hear to Wear' and finally the laid-back, angular bass grooves of 'Trick and Treatz', it's definitely a real mixing pot of eclectic but unquestionably brilliant ideas and genres. The band's live show, which featured the then three-piece wearing lights on their chests which flashed in synchronisation, also added to their charm as it was a great deal of pure unadulterated fun, and meant they were the perfect band to get the party started at #d2dfest 2006. 
What are they up to now?
Now five albums down, Metronomy possess a significant number of hugely adored electronic anthems and are still definite festival favourites.
KLAXONS
Picture the scene… it's 2006 and we've just entered the short-lived age of new rave, you've just donned your finest neon-based clothing and are covered in day-glow paint in preparation for the Klaxons who are playing a late-night set at Stealth. Sounds good, doesn't it?
The group were riding a wave of interest and acclaim after the release of the anthemic 'Gravity's Rainbow' earlier in the year. Managing to generate such a huge level of euphoria was an impressive feat, as they wouldn't release their debut, and Mercury Prize winning, album 'Myths of the near Future' until a year later. The group followed up this brilliant release with the expansive 'Surfing The Void' in 2010 and then with 2014's 'Love Frequency', with the latter release seeing the group re-inventing themselves as electro-dance supremoes, with the help of industry heavyweights such as Gorgon City, Erol Alkan and James Murphy lending a hand on production.
What are they up to now?
Sadly, the group have been on an 'indefinite hiatus' since 2014. Although, with the number of groups reforming again, maybe we can hope for some new Klaxons material …in the near future? Until this happens, we'll see you on the dancefloor for a boogie to 'Golden Skans'.
View the full running order over on Drowned In Sound here.
Grab yourself some tickets for this years festival for just £14 here.
Keep your eye out for more from 15 Years Of D2D in the next few weeks.