The first wave of acts have been unveiled for Dot To Dot Festival 2019; CRYSTAL FIGHTERS, JORDAN RAKEI, SWIM DEEP, THE NIGHT CAFÉ, DREAM WIFE, THE ORIELLES, LAUREN AQUILINA, VIAGRA BOYS, MINI MANSIONS plus loads more will head to Manchester, Bristol and Nottingham on 24-26th May 2019 for its 15th year. The award-winning day long festival will once again feature a line-up full of both established performers and the best emerging artists from the UK and around the world.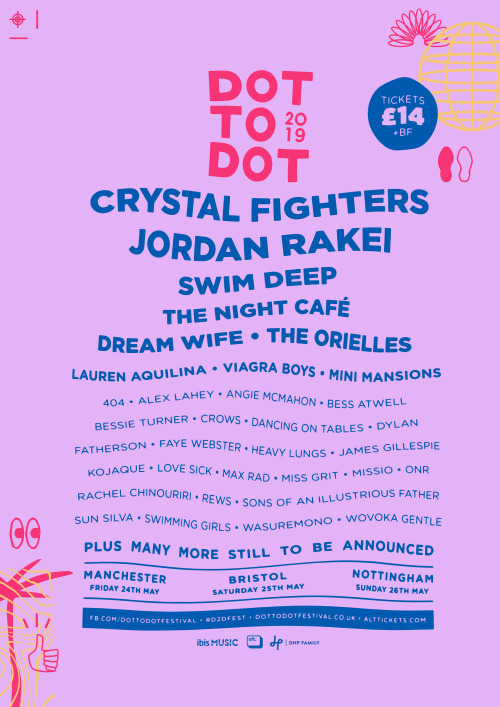 CRYSTAL FIGHTERS will headline Dot To Dot 2019, a band who have been an integral part of the alternative dance scene since the release of their debut album 'Star of Love' in 2010. Widely adored for their catchy songwriting and penchant for glitter, the English/Spanish trio built upon the momentum created by their debut with the release of 2013's 'Cave Rave' and 2016's 'Everything Is My Family'. These follow-ups saw the band evolve their party-fixated electro punchiness, to an evocative, euphoria-inducing summery sound. The group's endless energy and arsenal of feel-good anthems have made them a magnificent live proposition, helping them to forge a reputation for creating a celebratory party atmosphere wherever they play.
JORDAN RAKEI will be bringing his jazz and hip-hop driven sound to Dot To Dot 2019. The New Zealand born multi-instrumentalist moved halfway across the world to London to pursue a full-time career in music. He has since self-released his debut album, 'Cloak', in 2016 followed by critically acclaimed album 'Wallflower', released via Ninja Tune in 2017. Jordan has also collaborated with some notable tastemakers including Tom Misch, Disclosure, and more recently, merging the worlds of hiphop and electronica with beautiful ease on 'Ottelenghi' with Loyle Carner.
After previously wowing audiences at Dot To Dot in 2015, SWIM DEEP are welcomed back to the lineup this year. An integral part of Birmingham's B-Town generation alongside Peace and Jaws, the band currently have two album releases to their name; 2013's 'Where the Heaven Are We' and 2015's
'Mothers'. With these albums, came a collection of inimitable singles such as 'Honey', 'King City' and 'One Great Song and I Could Change the World'. With a sound that encompasses elements of melodic indie, shoegaze and pop, Swim Deep are guaranteed to produce many singalong moments during their Dot To Dot performance.
Liverpool four-piece THE NIGHT CAFÉ's pop-tinged summer anthems are guaranteed to get the crowd dancing, with their tunes recently daubed as being "bathed in sunshine… poppier than a fizzedup Fanta" by DIY. After being recently named in 'The NME 100: Essential New Acts For 2019' and notching up support slots with everyone from The Wombats to Sundara Karma to Circa Waves, there is no doubting that the group will be making a rapturous live show at Dot To Dot that is simply unmissable.
One of the breakout bands of 2018, DREAM WIFE spent the year conquering stages and festivals across the globe with their empowering brand of riff-infused rock. The group formed in 2015 for an art school project whilst studying at Brighton University, and chose their name as commentary on society's objectification on women. Dream Wife's self-titled debut, released in 2018 via Lucky Number, saw NME declaring, "Not since Yeah Yeah Yeahs burst out of Manhattan in the early 2000s in a blaze of fishnets and glitter has punk rock been as downright fun".
Having released their debut album 'Silver Dollar Moment' last year, THE ORIELLES have blown away audiences with their refreshing brand of post-disco punkiness, which led to their album featuring on numerous album of the year polls including Q Magazine, BBC 6 Music and Gigwise. Meanwhile, LAUREN AQUILINA is set to enchant audiences with her captivating piano-driven sounds, which have clocked up a staggering 30 million streams on Spotify. She will also arrive at Dot To Dot armed with new material, including her recent release 'If Looks Could Kill', showcasing her exciting, new pop direction.
Dot To Dot will also continue its proud tradition of giving up & coming artists a platform to shine across the greatest venues of Manchester, Bristol and Nottingham. Emerging at a rate of knots are Swedish rockers VIAGRA BOYS whose 2018 alternative anthem 'Sports' reminds us why heavy guitar music is alive & kicking, they are expected to be one of the most talked about acts of the weekend.
Also set to perform, the first wave announcement includes; 404, ALEX LAHEY, ANGIE MCMAHON, BESS ATWELL, BESSIE TURNER, CROWS, DANCING ON TABLES, DYLAN, FATHERSON, FAYE WEBSTER, HEAVY LUNGS, JAMES GILLESPIE, KOJAQUE, LOVE SICK, MAX RAD, MINI MANSIONS, MISS GRIT, MISSIO, ONR, RACHEL CHINOURIRI, REWS, SONS OF AN ILLUSTRIOUS FATHER, SUN SILVA, SWIMMING GIRLS, WASUREMONO, WOVOKA GENTLE, plus many more to be announced.

Dot To Dot Organiser Anton Lockwood, of DHP Family, said: "We are very proud that Dot To Dot is recognised as a unique and essential event for discovering new music. It might be our 15th year but our passion for emerging talent continues undiminished. For this edition of Dot To Dot we are very happy to welcome relentlessly creative headliners in Crystal Fighters and respected tastemaker Jordan Rakei, backed up with a huge array of the best emerging talent, with even more to be announced. We can't wait!!"
Tickets for Dot To Dot Festival are priced from £14 and available now through alt. tickets here.